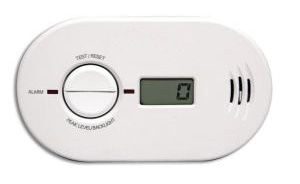 Recently a new law went into effect in Washington state requiring all residential homes for sale to have carbon monoxide alarms installed.  The new law (RCW 19.27.530) took effect on April 1, 2012 and is applicable to single family homes, condominiums, townhomes and manufactured/mobile homes.
The building code requires that carbon monoxide alarms be installed outside each separate sleeping area in the immediate vicinity of each bedroom, on each level of the dwelling, and in accordance with the manufacturer's recommendations.
What is carbon monoxide and why are alarms necessary?
Carbon monoxide (CO) is a poisonous gas that kills approximately 500 people in the United States every year. Carbon monoxide killed over 1,000 Washington residents between 1990 and 2005. You cannot hear, taste, see or smell carbon monoxide.  In many cases of reported carbon monoxide poisoning, victims were aware they were not well, but became so disoriented that they were unable to save themselves by either exiting the building or calling for assistance.  Young children and household pets are typically the first affected.
More info from the Washington State Department of Health:
http://www.doh.wa.gov/ehp/ts/IAQ/CO_Fact_Sheet.htm